Complete trash chute cleaning, debris removal and mechanical service.
Trash chutes contain bacteria, waste, dirt and grime!  This is a recipe for insects, rodents, and disease. Precision Chute Master specializes in creating a healthy and clean inside environment.  We use only 180-degree hot water and environmentally-friendly cleaning products to sterilize your chutes and compactors.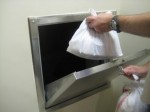 Trash Cute Cleaning
We clean from the top of your highest chute intake door to the bottom of the discharge door. Interior chutes, intake exterior doors, & openings are washed with special attachments. Our ingredients are environmentally friendly and our water is 180 degrees to ensure maximum clean! » Get a Quote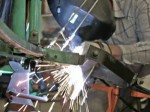 Complete Equipment Repair
Please let us know in advance if you need any trash chute liners. These protective liners cover the heavy-wear areas of your chutes. They keep your chutes cleaner for longer, and make it your next clean an easier process. Our company is also able to provide replacement parts and doors. » Get a Quote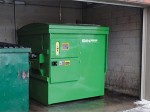 Cleaning of Entire Compactor Room
We clean the interior and exterior of the compactor with high pressure water and environmentally friendly ingredients.  What's more, we sanitize the entire compactor room, from the ceiling to the floors, for a complete clean. We can get rid of that foul odor that comes from garbage & waste. » Get a Quote
Let us know if you do not have enough water on site for your trash chute cleaning; we have self-contained units to bring water to you!  Some sites do not have drains in the compactor area.  If that's the case, we can bring our mobile vacuum unit to remove all waste water on site.